STUPIFYING 1951 THREEPENCE MISS-STRIKE ERROR IN PROOF
CV of at least $25,000!!! But you decide what it's really worth!!!
We at Joe King Numismatics believe this to be the second best numismatic investment you could make.*
Shiny surfaces that in my opinion obviously indicates a proof.**
A mind-numbing example.
Authenticated (after a few) by a bloke in a pub who claimed to be a dealer.
You make up your mind from the scans and ask all questions before bidding.***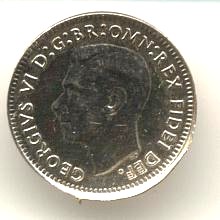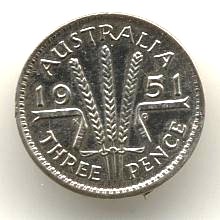 No refunds.
* The best being a decent numismatic reference book.
** If I say it's just my opinion, then I am not subject to any liability. Also you really cannot tell from the scans as they are too small.
*** This removes all liability from me unless you ask questions such as "Has this coin been polished or plated?".
---
For more information on Australian coins and varieties, see my
About Me
.
---
---
Orders can be combined to save postage.
Delivery in Australia:
I prefer to send orders by registered post ($A5 for individual coins and groups of coins that will fit into a padded bag to be sent registered, at cost for heavier items) but for smaller orders will send by normal mail for $2.00 (but any loss will be that of the purchaser).
Payment:
All cheques must be in Australian Dollars. Items will not be shipped even when cheques are cleared.
Return conditions:
If you are unhappy with this item for any reason whatsoever, that's your worry as you should have read the description above.
Feel free to email me if you would like a more detailed scam.
---
We at Joe King Numismatics reserve the right to end this auction early if anyone takes it seriously and actually bids.