Joe King Numismatics
With Over 30 Days Experience Trading In Australian Banknotes & Coins
| | |
| --- | --- |
| | Fledgeling Member Of The Stamps Letters And Numismatic Dealers Association |
---
We at Joe King Numismatics are proud to offer this limited edition reference by the author of such classics as "An Advanced Guide To Note Washing" and "The Specimen Came In A Foy Bag And Other Stories" and widely considered to be one of the modern masters of numismatic literature.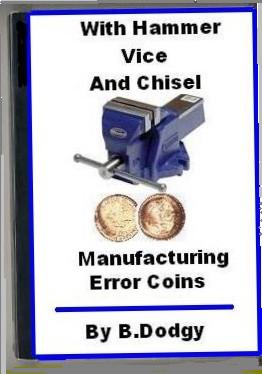 With Hammer Vice And Chisel - Manufacturing Error Coins, B.Dodgy, Raw Prawn Press, 2012. RRP $49.95

To quote from the blub:



After 18 months in the number plate manufacture business B.Dodgy has returned to numismatics with possibly his greatest work yet.
If you are interested in making your own error coins, this book has it all. Clips, wrong planchets, fake brockages and impossible double brockages are just some of the attractions.


What The Reviewers Said:

"Absolutely indispensible; now I see where I was going wrong."

"What I found most useful was the advice on internet sales and public auction consignment."

"Fills a much needed gap in the literature."

"That coin in chapter 4 looks just like the one I bought at... oh no..."


And that isn't all! With this book you also receive the two "error" coins we at Joe King Numismatics generated by following the instructions of chapter 4.